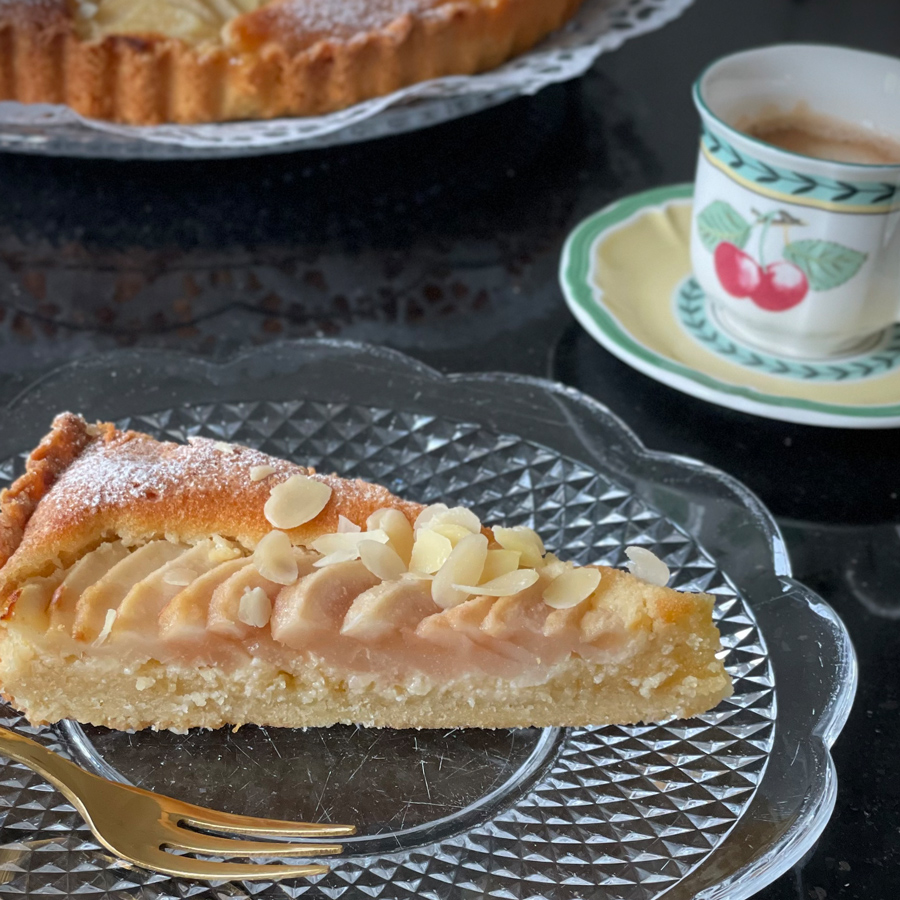 I love almonds; their smell and taste and just the thought of frangipane itself create a mouth-watering sensation.
 And I guess I am not the only one. This one is a more decadent recipe to which I added my favorite liqueur Disaronno – a match made in heaven for the almond lovers like myself. 
Ingredients:
Pate sucree (full recipe here)

100 gr softened butter

80 gr powdered sugar

100 gr almond flour

1 egg

1 tsp vanilla extract

1 tbsp Disaronno (or any other almond liquor)

3 large ripe pear
Instructions:
Prepare the pate sucree according to the instructions (full recipe here). Using an electric mixer or stand mixer with a paddle attachment, cream the butter and sugar until creamy and add the almond flour, egg, and vanilla extract. 
Finally, add the Disaronno (or any other almond liquor). Spread the mixture over the prebaked pate sucree and refrigerate for 20 minutes. 
Meanwhile, peel, core, cut the pears evenly, and add several drops of lemon juice to prevent them from darkening. Slightly press the pear slices into the frangipane and bake in a preheated convection oven at 180 for 40 minutes.
Let the tart cool and decorate it with powdered sugar and toasted sliver almonds.
Enjoy it with a cup of coffee or, even better, with a glass of sparkling wine.