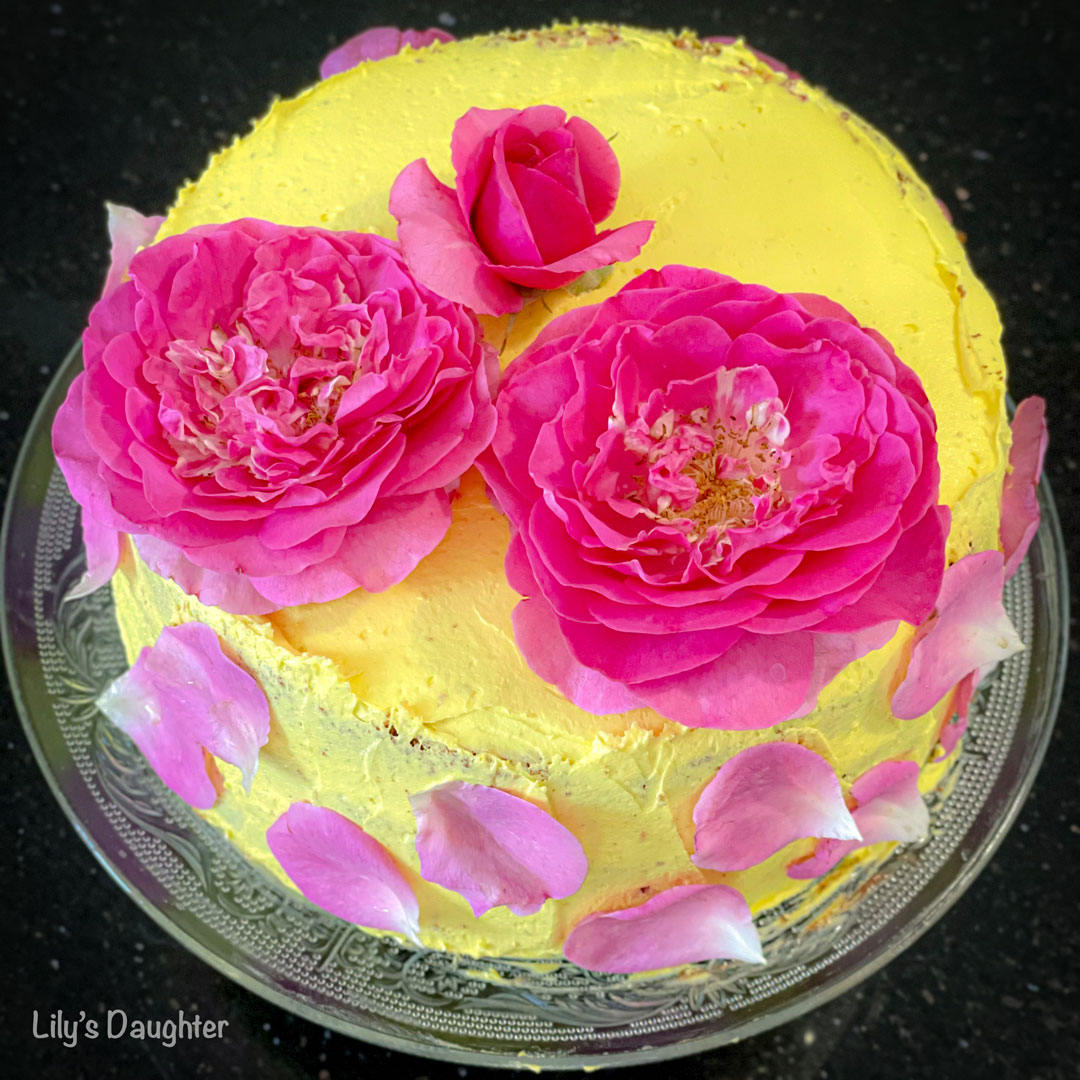 Usually, for my children's birthdays, I order delicious cakes from the pastry shops. Decorated with their favorite movie or cartoon characters and made according to their preferences. 
But this year was completely different. Since I learned how to cook, my older daughter requested me to make her the cake for her 13th birthday.  
I was both honored and scared. Will I make it right? Will she like it? I decided to set all the doubts aside and get to work. 
My daughter Antonia is a fancy girl, so she deserves a fancy cake. And what could be fancier than a rose-flavored cake?
My husband had planted a special breed of edible roses that were just starting to bloom, and a friend of mine sent me organic rose water—just the perfect combination for my rose-flavored cake. 
Ingredients:
5 eggs separated

180 ml vegetable oil

200 gr granulated sugar

240 ml warm milk

Organic rose water

300 gr all-purpose flour

½ tsp salt

12 gr baking powder

350 gr soft butter

250 gr powdered sugar

½ tsp vanilla extract

Raspberry or strawberry marmalade
Instructions:
Start by separating the eggs. Set the yolks aside and begin by mixing the egg whites until they form stiff peaks. Continue by mixing the egg yolks with the vegetable oil and granulated sugar. Proceed with the milk. Whisk until all the ingredients are incorporated. Add 2 tsp of organic rose water. 
In the meantime, mix the dry ingredients in a bowl and sift them into the cake batter. Mix on low speed until well combined. Now, using a spatula, slowly add the egg whites. Transfer the batter into two 20 cm cake pans covered with parchment paper. 
Bake in the preheated oven at 180C for approximately 40 minutes or until a toothpick inserted comes out clean. 
Let the cake cool on a wire rack. 
Prepare the buttercream by whisking together the butter with the powdered sugar. Add the vanilla extract and 2 tsp of organic rose water. I added yellow food coloring just to bring out the color of the roses. 
To assemble the fruit tart, pour the pastry cream in the prepared tart (for the recipe, check my link) and place the fruits of your choice. Decorate with mint leaves. 
Let the tart cool in the refrigerator before serving. 
Using a serrated knife, divide the two cakes in half, spread the buttercream on top of each layer, and add the raspberry marmalade. Place the cake layers on top of each other, decorate with buttercream and edible roses.