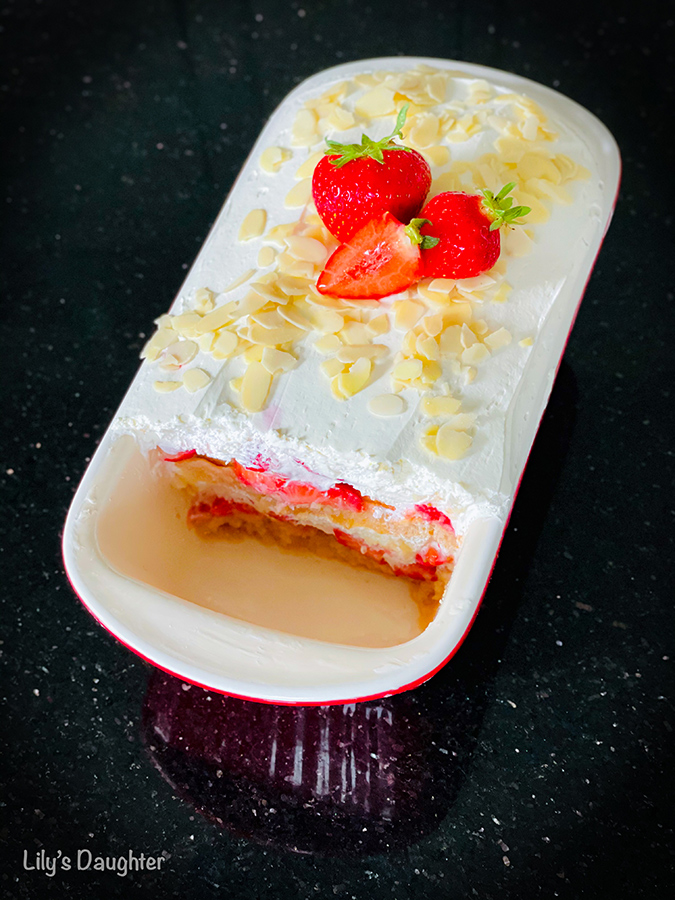 I know, I know it is difficult to imagine your favorite Italian dessert differently. But sometimes, I have to adapt the recipes according to my kids' wishes. Typically, all three of them adore strawberries and can't get enough of them. So I combine them in desserts as well. Besides the classic tiramisu, which my husband and I love, this is an easier and faster version to create the dessert.  I will post the recipe on my website shortly.
Ingredients:
600 gr fresh strawberries quartered

20 pc ladyfingers 

150 ml water

75 gr granulated sugar

250 gr mascarpone cheese

250 gr sweet whipping cream

1 tsp vanilla extract
Instructions:
In a medium saucepan, place the water and the sugar and bring to a boil. Add the quartered strawberries and set them aside.
Using a stand mixer, whisk the whipping cream until stiff peaks form and add the mascarpone and vanilla extract. Continue whisking until the mixture is incorporated. 
In the meantime, sieve the strawberries and preserve the strawberry water into which you will dip the ladyfingers.
Start by assembling the strawberry tiramisu. Dip the ladyfingers into the strawberry water and place one whole layer into your pan. Add half of the strawberries on top and cover with the cream cheese mixture. Repeat the procedure once more and garnish with sliced almonds and strawberries.
Chill for at least 3-4 hours before serving.
Bon Appétit