Magret de Canard – Duck breast served over mashed broccoli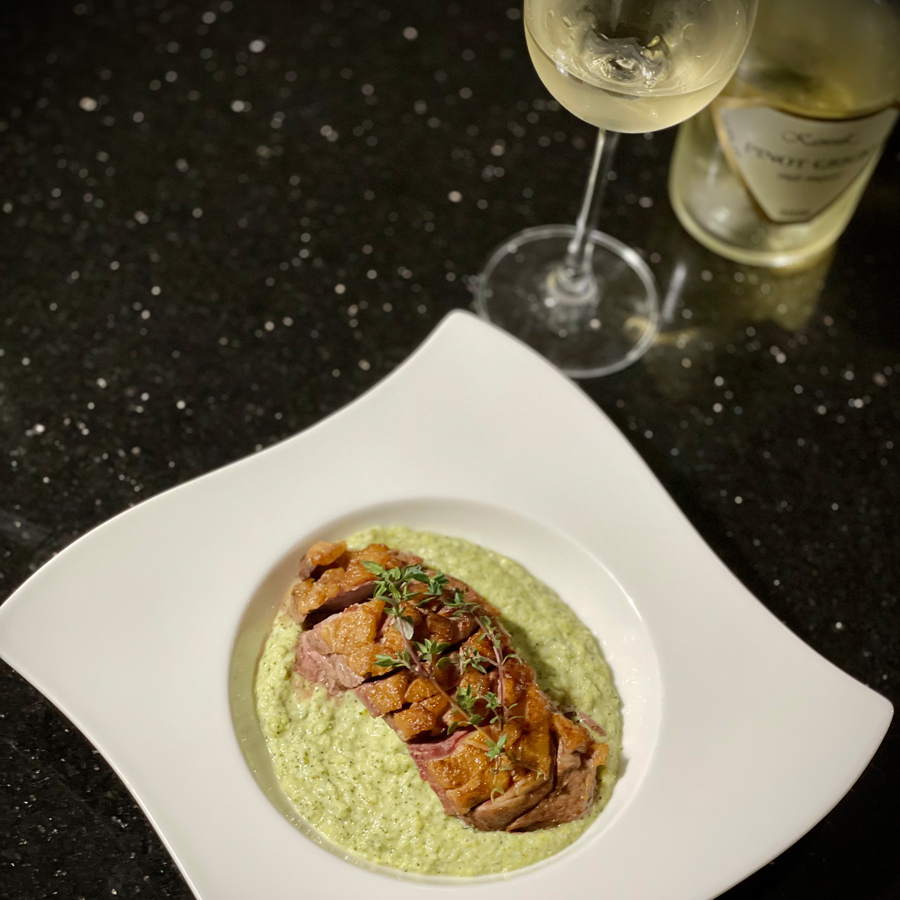 I love fancy food, well actually who doesn't? What I don't like is spending countless hours in the kitchen preparing it, especially on weeknights. 
Magret de canard or duck breast is one of those meals that you can prepare in no time, without fuss. It is equally loved and appreciated by all family members, which makes my cooking even more enjoyable.
To add a touch of color, I have served the Magret de Canard over mashed broccoli.
Ingredients:
4 pcs duck breast

Salt & pepper to taste

1 yellow onion diced

2 cloves garlic chopped

2 broccoli heads (florets only)

30 gr butter

100 gr sour cream 

2 sprigs thyme

Mint (optional) 
Instructions:
Using a sharp knife, score the skin of the duck breast without cutting the meat. Then, place them skin side down on a cast-iron skillet over a medium heat without adding oil to it (the duck breast should cook in its own fat). 
Let the duck fry for 3-4 minutes until the skin turns golden brown, and then turn it over and fry for another 5 minutes. Cooked like this, the magret de canard keeps all the juices kept inside. Next, take out on a cutting board, thinly slice the duck, season generously with salt and pepper,  and return to the cast-iron skillet for another 10-15 minutes in the oven at 180C. 
The duck is ready to be served.
Meanwhile, you can prepare the mashed broccoli. First, in a medium saucepan, saute the chopped onions and the garlic on some olive oil until softened, and add the broccoli florets. Next, add the water, season with salt and pepper, cover, and let it cook for approximately 15 minutes on medium heat. Next, transfer broccoli to a food processor or blender, add the butter, thyme, and mint, and process until smooth. Finally, add the sour cream and adjust the seasoning.
Serve the Magret de Canard over the mashed broccoli decorating with thyme or chives.
Bon Appetit