Dolma, dock & vine leaves stuffed with rice and herbs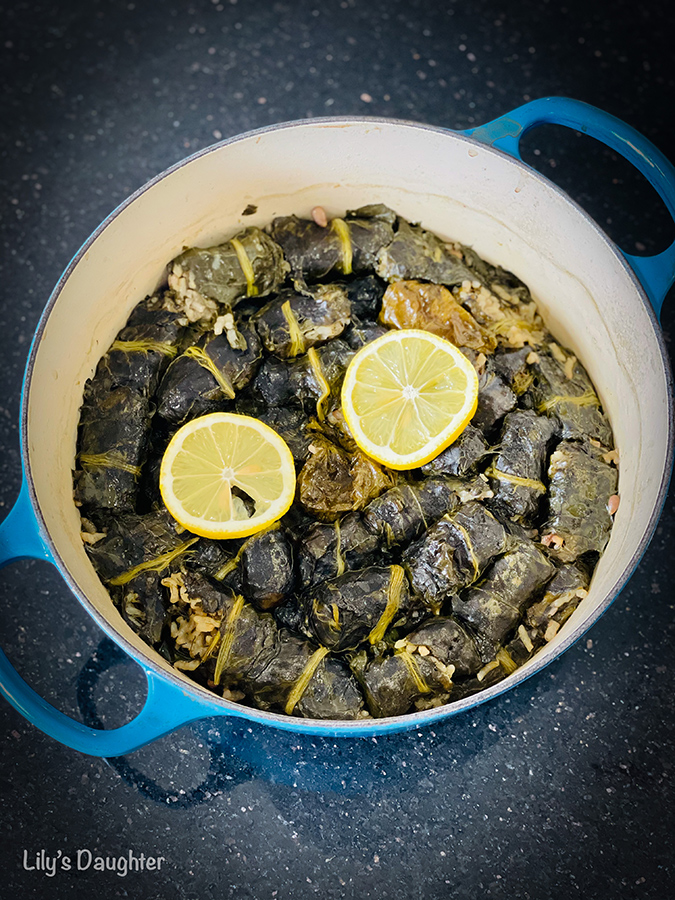 This traditional dish reminds me of my childhood; my late grandmother often prepared it for special occasions. It is the first time I am preparing myself, and it brought me beautiful memories. I am sure my grandmother would have been very proud of me. 
30 dock leaves

30 vine leaves

6 spring onions chopped

1 yellow onion diced

½ bunch dill chopped

½ bunch mint leaves chopped

2 lemons zest 

400 gr Arborio rice

40 gr pine nuts

60 gr walnuts chopped

Olive oil

Water 
On a medium heat, saute the spring onions with the diced yellow onion until caramelized. Add the rice and pour 500ml water; stir the mixture and cover for 5 minutes, until the rice slowly absorbs the water. Add the chopped herbs, zest, and season with salt and pepper.
In a large pot, place several vine leaves to cover the bottom of the pot and start rolling the dolmas. Add one teaspoon of the mixture and roll the leaves, arranging them in the pot tightly. You can set them in two levels. Add two lemon slices, place a plate on top and cover with water just above the plate.
Place the pot in a preheated oven at 180 for 45 minutes. 
Let it cool before serving. The dolmas are equally delicious when eaten both cold and warm. My excellent serving suggestion would be to eat them with yogurt and freshly baked bread.