Blueberry and lavender custard tart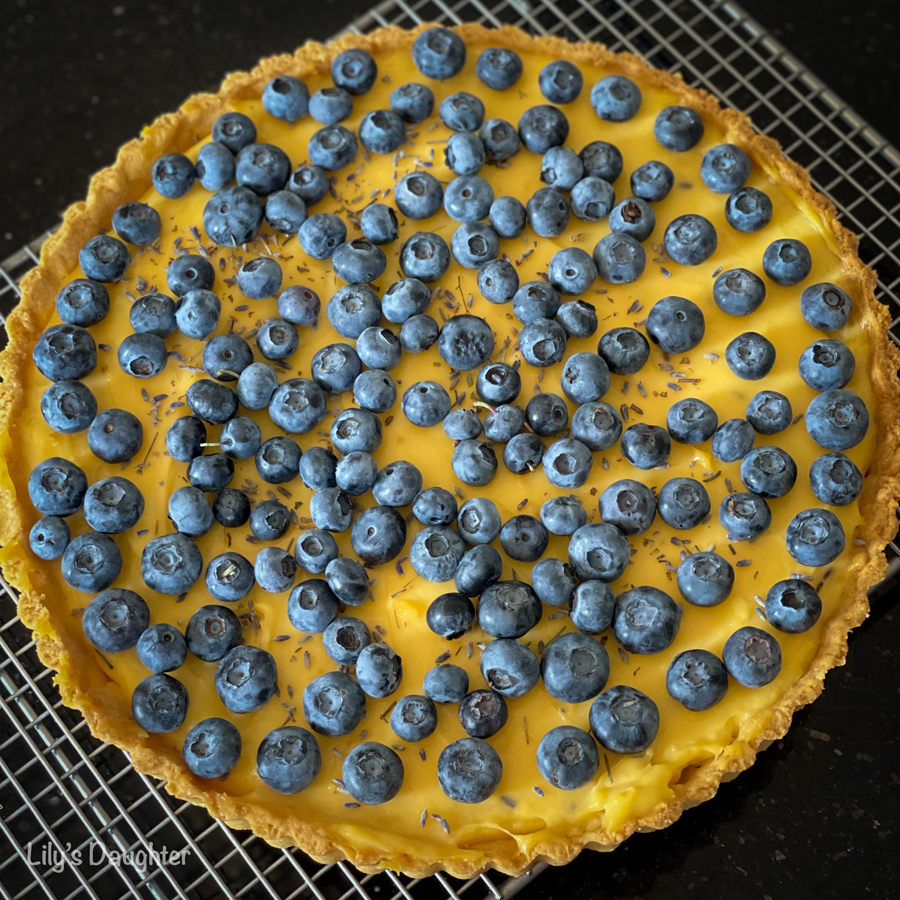 Lavender and blueberry season is upon us, and creating this recipe was a piece of cake. It is the perfect way to indulge yourself completely. 
You can never be wrong if you decide to combine it with a glass of sparkling rose wine.
Ingredients
for 28cm tart pan

:
250 gr all-purpose flour

90 gr sugar

15 gr almond flour

150 gr cold butter cubbed

1 egg

1 tsp vanilla extract

1-2 tbsp cold water
Lavender Cream

:
500 ml milk

5 egg yolks

90 gr granulated sugar

60 gr corn starch

1 tsp dried edible lavender

1 tbsp lavender syrup 
Instructions:
Mix the flour, sugar, almond flour, and butter in a mixing bowl using the paddle attachment. Add the egg and vanilla extract and water if needed. Mix on low speed until a firm dough forms. Wrap the dough in plastic wrap and refrigerate for at least 30 minutes. As soon as the dough is chilled, roll out the dough on a floured surface. Transfer the rolled dough to a tart pan and bake in a preheated convection oven at 160 C for 20 minutes. 
To prepare the lavender cream in a medium saucepan, bring the milk to a simmer. Add the lavender syrup and dried lavender and mix. In the meantime, whisk the egg yolks with the granulated sugar and the corn starch until very creamy and pale yellow.  Add a small quantity of the hot milk and continue whisking. Return the egg yolk mixture to the saucepan with milk and on low heat, mix until the custard thickens. 
Pour the custard over the cooled tart and let it cool at room temperature before decorating with blueberries.