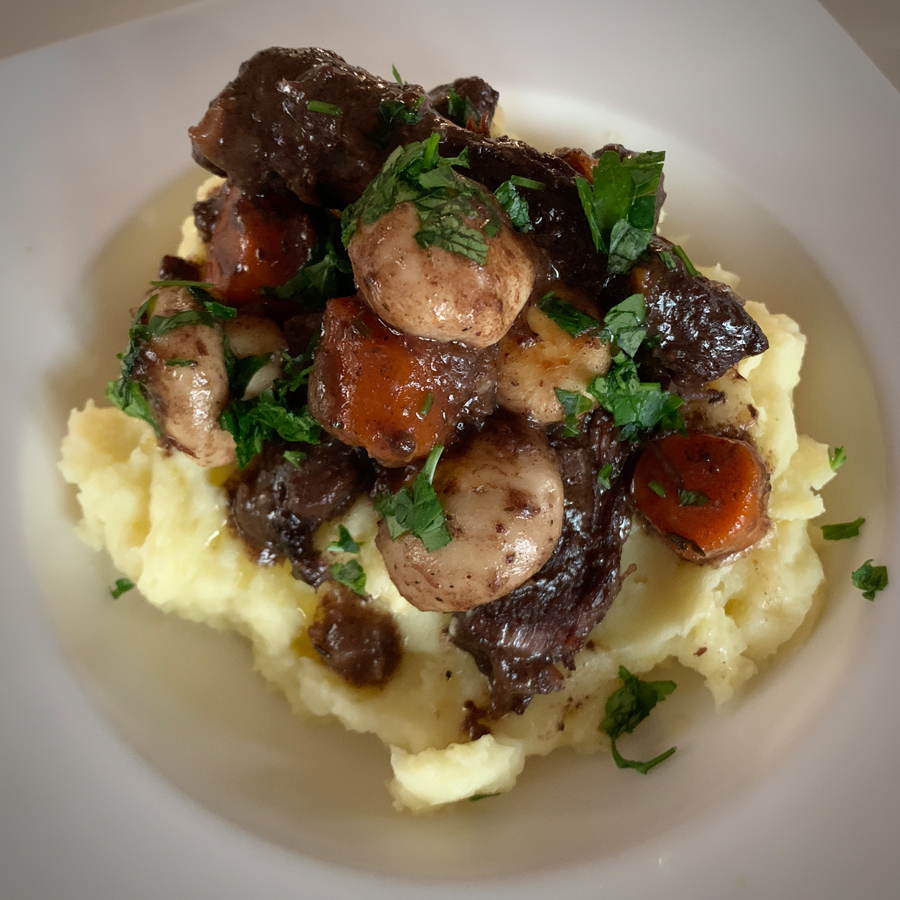 One of the all-time favorite French meals is the Beef Bourguignon. I usually prepare this dish for Sunday's large family feast, mainly during the autumn and winter. Indeed, it is a bit time-consuming to prepare, but the good thing is that it is utterly delicious.
Ingredients:
1.5 kg beef brisket cut into cubes

1 yellow onion diced

1 large carrot diced

300 gr champignons mushrooms

500 ml red wine (I have used Pinot Noir)

500 ml beef stock 

4-5 cloves of garlic, minced

40 gr flour 

Bouquet garni (bay, thyme, and parsley)
Instructions:
Start by preheating the oven to 220 degrees. On medium/ high heat, add a small amount of vegetable oil in your cast iron pot or Dutch oven, brown the brisket, so the juices of the meat can be kept inside, and set the meat aside.
Add the diced onion and carrots to the same pot and let them caramelize. Add the beef back into the pot and stir the vegetables and meat. Sprinkle the flour over the meat and place the cast iron pot /Dutch oven in the oven for about 10 minutes. 
Take it out of the oven, stir well and pour the red wine and the beef stock making sure that the liquids don't go over the meat.  Add the garlic, season generously with salt and pepper, and add your bouquet garni. 
Stir well and cover, lower the oven to 180 degrees and let the stew cook for about 2.5-3 hours, checking and stirring it frequently.
In the meantime, sauté the mushrooms so you can add them to the sauce at the end. 
After the stew has been cooked,  remove the meat cubes, pass the sauce through a sieve, let the remaining sauce reduce, and add the mushrooms. 
Serve the meat over mashed potatoes,  and garnish with the mushroom's gravy.
Enjoy it with a glass of excellent red wine. 
Bon Appetit