Asparagus & Salmon in Mouselline Sauce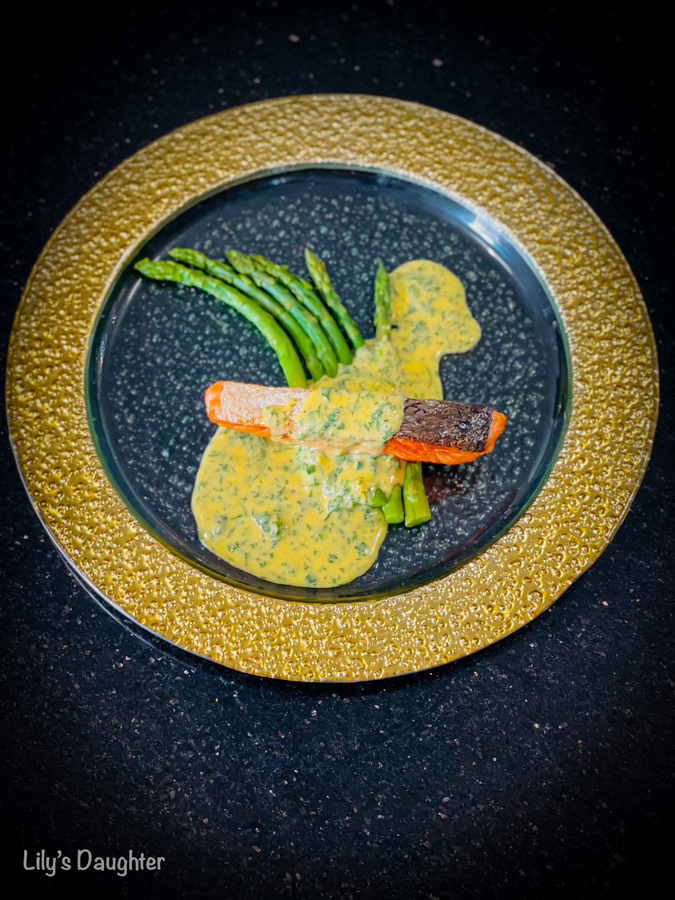 I love asparagus. I could eat it almost every day. This is one of the fancy entrees that you can prepare for your guests, or if you increase the amount of salmon, you can serve it as a main course.
4 salmon filet (skin on) x 100gr each 

20-25 stalks of asparagus

8 egg yolks

60 ml white wine

2 tbsp water

200 gr cubbed butter at room temperature 

½ bunch parsley

½ bunch dill

½ bunch chives
Place the asparagus in boiling water for several minutes and transfer it to ice-cold water to stop the cooking process. Set it aside for later use.
Place 2tbsp of olive oil in a skillet on medium heat and place the salmon skin-on in the pan. Cook until golden brown, and turn it over with a spatula. Cook for five more minutes and set it aside to cool.
Start with the preparation of the sauce mousseline. In a medium saucepan, combine the egg yolks, white wine, salt, pepper, and water and place it on low heat to whisk for approximately 10 minutes until the mixture thickens. Remove from heat and start adding the butter very slowly and continue to whisk. You should have a creamy, luxurious mixture. Add the chopped herbs and serve the sauce over the asparagus and salmon.